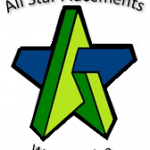 All Star Placements
IT Desk Support Technician needed in Kempton Park. Seeking candidates with relevant previous experience that will be responsible for the upkeep, configuration and reliable operation of computer systems, especially severs and other server room equipment. General IT/Desktop administration and support, Network, Printer, General PABX and IP CCTV support. Implementing and maintaining an IT Fault reporting system. Hardware inspections. IT asset list maintenance. Back-ups and Anti-virus. And other Ad-hoc duties as required.
Basic salary of R20 000.00 to R 25 000.00 on offer with benefits to be discussed.
Send CVs in a Word format with a copy of your highest qualification and a copy of your ID to contact@allstarplacements.co.za for more employment opportunities "Like" the All Star Placements Facebook page.
Disclaimer: Dear Applicant, please note that if you are not contacted by All Star Placements within five days of your application you may assume that the application was unsuccessful (i.e. You do not adhere to the minimum standards for the position in question) your CV will however be placed onto our database for any future employment opportunities that may arise.